Artifactio.com is alive!
So it's been many months of hard work, research, trips around Thailand, meeting with artisans, artists, workshops, shops – the list goes on and on – but Artifactio is finally launched!
This is something that we here at Artifactio are all very passionate about.  Our mix of cultures, backgrounds, histories and heritages brings a pretty unique offering to our endeavour.  We've seen the competition in this space – not just in Thailand but globally – and we're not impressed.  Low quality photos, slow and often malfunctioning websites, prices that are unreasonable with absurd customer service and very frequently no social responsibility for the communities that produce these unique items.
We're here to change that.
We're bringing outstanding customer service, second-to-none online experiences and great priced handmade products to the world, one artisan at a time.  We're literally digging in the back of workshops around South East Asia to bring you some really unique artifacts.
One of core values at Artifactio is being respectful of local customs and beliefs.  Most importantly our Buddha statues are compliant with the Fine Arts Department of the Ministry of Culture standards for exportation which is commonly ignored.  In our upcoming articles we'll even be letting you know the best way to display your Buddha statues respectfully based on Buddhist customs.
In addition to being respectful of local cultures, we're also very mindful of the environment.  All our handcarved teak wood panels, fixtures, figurines – anything teak – is all reclaimed or from teak plantations wherever possible to avoid illegal deforestation.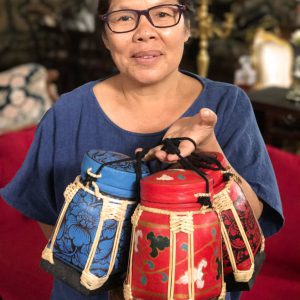 So what's next?
Well – a lot!  We have launched about a week ago with a very small set of products.  Mainly thai rice boxes along with some ornamental items like a gorgeous one off Buddha bust (for sale domestically in Thailand only) and some really beautiful reclaimed hand carved teak wood panels and some very unique decorative statues.
We have many more handmade items to come, but most importantly – we are searching for the right partner for our corporate social responsibility (CSR) project.  We're looking for our first true collaboration in Chiang Mai with a school or orphanage to support children.  We believe change starts with the kids, and we're willing to put a portion of our revenue behind that belief.  More on this to come!
So hang tight, and keep following us on Facebook, Instagram, Twitter and Subscribe to our mailing list – there's all sorts of interesting, exciting and beautiful things ahead!
Please Support Us By Subscribing!